This post is also available in: हिन्दी (Hindi) ಕನ್ನಡ (Kannada)
Please follow the steps given below to know how to vote. 
Before you go to the polling station, please verify if your name is on the electoral roll of your constituency. You can do that by checking the list
here
.
Indian Resident Voter:
Take your Voter ID card with you to the polling station. If you do not have a Voter ID card, you can take other forms of identification also. But only those that have the same address as the one mentioned in the electoral roll of your constituency/Voter ID card.
NRI Voter 1:
Take your passport with you to the polling station.
You will have to wait in line till your turn comes to vote. The women, men and people with disabilities will be allowed to enter separately and only one voter can enter at a time. You will see a notice which is displayed on the polling station building or hall, which gives information regarding:
The polling area, and the different polling stations with their addresses (if there are more than one).
List of voters in each polling stations.
List list of candidates standing for elections.
Inside the Polling Booth
As you enter the polling booth, the First polling officer will verify if you have the valid ID and you are on the electoral roll. Once it is verified that you are a bonafide voter the Second Polling Officer will put an ink mark on your left index finger. This is done to ensure the voting officials of the fact that you have voted and to not allow a person to vote multiple times.
If you do not have a left index finger then watch this video to understand what will be done. If you already have an ink mark on your finger or if you refuse to put the ink mark, then you will not be allowed to vote.
The officer will2:
Make a record of your Voter ID Number in Form 17A.
Ask you to put your thumb impression or signature in a book known as the Register of voters.
Mark your name on a copy of the electoral roll, thereby permitting you to vote.
After this, you will have to proceed to the voting compartment.
As a voter, you will cast your ballot by using an EVM Machine or Electronic Voting Machine. It is a machine which is operated electronically and helps record votes. 3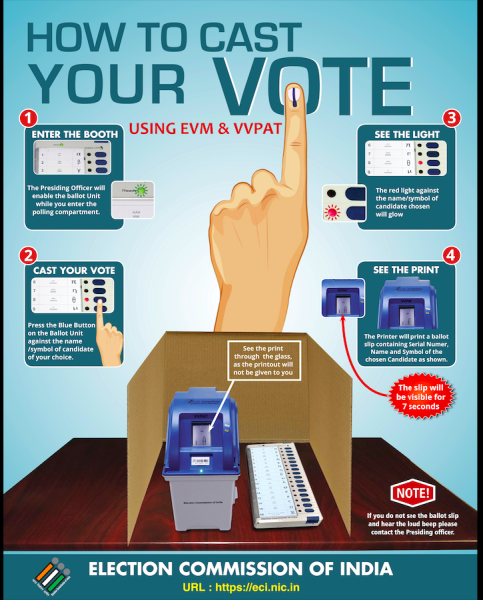 Moving to the Voting Compartment4
An Electronic Voting Machine consists of two Units – a Control Unit and a Balloting Unit – joined by a five-meter cable. The Control Unit is kept with the Presiding Officer or a Polling Officer and the Balloting Unit is placed inside the voting compartment, where you vote. The Presiding Officer or the Polling Officer releases the ballot for you so that you can cast your vote,
A list of candidates' names and symbols will be available with a blue button next to it. You have to press the button next to the name of the candidate's name that you wish to vote for. If you do not wish to vote for any particular candidate, then you have the option to select the NOTA – None of the Above option in the EVM Machine.
Right after you have voted, you will see a green light on the VVPAT Machine will be placed next to the EVM Machine, which will indicate that you have voted. You will also see a printed slip which is printed containing the serial number, name and symbol of the candidate which you can see through a transparent window for 7 seconds. This printed slip automatically gets cut and falls in the sealed drop box of the VVPAT.
You cannot vote more than once and even if you make a mistake, you cannot undo it. Even if your name comes twice in the electoral roll or your name comes in two different constituencies electoral rolls, you can only vote once. If you vote twice, then both your votes are not counted. There is nothing you have to do after all this is over. Once you exit the polling station, you have completed the voting process.
0